Going out trick-or-treating may not suit you for Halloween this year, maybe the weather is going to be bad, the kids got sick, or you'd rather just spend this holiday together with family!

You can make great memories on Halloween with family with just a bit of creativity and fun spirit.

A family Halloween big night in might be the perfect way to celebrate with your family.

Here is how you can still make Halloween 2022 a memory that will last a lifetime and make you laugh in years to come.
(This post may contain affiliate links where I earn a small commission your purchase at no cost to you. Feel free to check my disclosure for more info! )
Top Tips for Halloween Night In
1| Dress Up!
Keep the Tradition of a Fun Costume!

Either get a great one second hand from local thrift shop or online second hand shop like Good Buy Gear, or checkout the online Halloween store for family themed costumes to make a good family photo!

You could also start new tradition of a Ugly Halloween Sweaters board game night!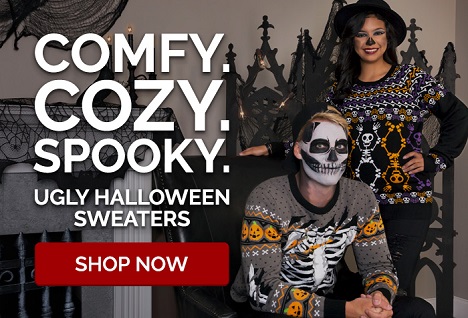 2 | Decorate
Get a few decorations out in the living room to get in the Halloween mood.

Or D.I.Y. and make some together like mentioned below!
3 | Mood Music
Make a little playlist of some Halloween tunes to have in the background on low.

Whether it's just some fun tunes like "The Monster Mash" or get up and dance music like "Thriller" by MJ.

Get in the Halloween mood with some Halloween background music!
Spotify
Pandora
IHeartRadio
THINGS TO DO FOR HALLOWEEN NIGHT IN
1| Paint or Carve Pumpkins
Carve Pumpkins
A good ol' Halloween tradition you can choose to do on Halloween instead of earlier if you want.

You can turn this into a craft tradition to do together on the night of Halloween.

Just get yourself a good pumpkin carving kit (this one includes led candles), and you're all set to go for a fun family craft.
Paint Pumpkins
Want an alternative to the messy,mucky carving tradition?

How about you paint or paint-pen your pumpkin!

A great option if you potentially want to cook with your pumpkins after the holiday instead of leaving them to accidentally rot on your front step.

When you decide to cook them, just peel the skin off and enjoy making a delicious homemade pumpkin pie from your creation.
Chalkboard Pumpkins
A different spin on the pumpkin painting, use chalkboard paint all over your pumpkins the day before.

On Halloween, you can use chalk and make any design you like.

This might be a good option for toddlers if you aren't into making a paint mess.

With a little planning ahead on your part, you can have some unique painted pumpkins that kiddos can design with chalk later.
2 | Family Halloween Game Night
Make a fun night in with the family and plan a Halloween themed game night.

You can have the winner of each game could pick a normal size candy bar from a bowl.

Make some memories and enjoy being festive with the kiddos.

Here are a few ideas you can use for your game night.
Mystery Candy Game
Pick up some of your favorite candy for a game blindfold & guess the candy!

Can you figure out which is which?

This is a super simple game that can be sweet fun!
Pin the Witches Nose
Here is an alternative to the Pin the Tail on the Donkey game. You need a large printout of a witch, but you really just need her face.

Tape it up somewhere sturdy in your home and blindfold each person one at a time togive them a go at pinning (using blue tack) their nose onto the witch.
Halloween Tic-Tac-Toe
A classic game that only requires black poster board (or chalkboard paint on cardboard) and small pumpkins.

This easy game is another budget friendly Halloween game with little prep needed.

Get either tiny 6 white pumpkins & 6 tiny orange pumpkins or 12 orange and decorate half.

Use some chalk, silver sharpie, or white-out to create the lines on your "board".

Bones Race
You can also play a little relay race in your backyard before it gets dark on Halloween. To make it themed for Halloween, you are going to have a bones race.

What you are going to do is make two large skeletons with the same number of bones. They should fit on large pieces of cardboard.

Often you can find a skeleton Halloween decoration that you could cut into pieces as an alternative.

Two teams will need to run to the other side of the yard to grab one bone at a time, return it to the cardboard, and tape it up in the right spot. They keep going back and forth until the first team with a finished skeleton wins.
3 | Halloween Themed Dinner
Cook a whole meal from scratch together as a family that is Halloween inspired.

After drawing on your pumpkins and snapping some good photos of it, make a delicious pumpkin pie out of it.

Have an eyeball spaghetti dinner with some pumpkin-shaped carrots on the side.

You can really have a bit of fun with this depending on how creative you want to get.

Don't forget a decorate your own cupcake station!
Decorate the table and set in up with all the cutlery and napkins, maybe even light some candles to have it feel "spooky".

A family dinner is something you can never go wrong with.
---
4 | Halloween Movies & Shows
There are tons of things you can watch with your kids on Halloween that aren't scary and are family-friendly. The following television shows and movies are perfect for Halloween when you want them to enjoy the holiday but not get frightened.
Charlie Brown – It's a Great Pumpkin
Check your TV Guide and will likely find this television special somewhere. A 1966 Classic which features Charlie Brown and friends who are getting ready to go trick-or-treating, while Linus spends the night in the pumpkin patch, because of a story about 'The Great Pumpkin'.
Pooh's Heffalump Halloween Movie
For those who have babies or younger children, there is a Winnie the Pooh movie called Pooh's Heffalump Halloween Movie you can grab from Amazon prime video.

Pooh, Piglet, Tigger, and the rest of the gang go on their regular adventures in the Hundred Acre Wood where it is Halloween.

A light heart family film you can enjoy with the younger ones and still enjoy the Halloween spirit.
Hocus Pocus
Since it came out in 1993, Hocus Pocus has become everyone's favorite Halloween movie. It is fun to watch, not too scary, and family-friendly.

The movie features three sisters who are witches and live in Salem. They come back centuries after their death when they get resurrected.

An humorous immortal black cat helps the young characters get rid of the witches for good and save everyone in town in the process.
Halloweentown
Another 90's release Disney Halloween movie for kids. Some kids follow their grandmother home to find out they come from a family of witches, the good kind.

They discover Halloweentown where the "supernatural" can live a normal life for the rest of the year.

The siblings work together to help sort out a villain who wants to change Halloween town to not be the fun family-friendly place it is.

A film I certainly enjoyed watching every year as a kid and enjoying a fun concept of a town where it is like Halloween all year long.
Re-Cap of Things to Do for Halloween 2022
If you are looking for something to do for a Halloween night-in then these are some great options for families.
Carve or Paint Pumpkins
Chalkboard Pumpkins
Family Game Night w/ Ugly Sweaters
Halloween Tic-Tac-Toe
Halloween Themed Family Dinner
Movie Night with Halloween Classic's
Mystery Candy Game
Bones Race
With a little bit of planning and a lot of festive spirit make your own Halloween family memories with a Halloween big night in!
Bonus Tip for Those Planning Ahead?
Might be good time to trial out Amazon Prime with their Prime Day this October.

Their Free 30 Day Trial is a good chance to get ahead on Christmas Shopping.

Prevent all your spending to pile up in December, start during your Halloween planning!
Ultimate Guide to a Halloween Big Night In with the Kids